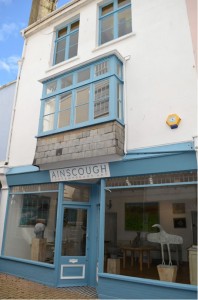 Ainscough Contemporary Art was established by Catherine Ford in Chelsea in 1995 exhibiting British contemporary art with up to ten solo shows a year until 2012.
The Dartmouth gallery opened in 2005 and continues to exhibit British contemporary art over three floors with changing exhibitions throughout the year of gallery painters, potters and sculptors.
Please do email or call us to join our mailing list to receive our catalogues and e- newsletters. Please email or telephone for Opening Times.
We look forward to seeing or hearing from you soon.
Contact us on:
Tel: 01548 855732 or email: art@acag.co.uk
Address:
16 Foss Street, Dartmouth, TQ6 9DR
All the information you provide to Ainscough Contemporary Art Ltd, including your e-mail address and delivery address, are strictly private and confidential. Ainscough Contemporary Art Ltd is committed to ensuring that your privacy is protected. We will never store any financial or payment card details during the buying process.Your email address is the only information that you need to supply to join our e-mailing list. Additional information is optional. All information is held in accordance to the Data Protection Act 1998 and will never be passed on to a third party. By joining our e-mailing list we will send you e-mails to keep you up to date with exhibitions and events.Ainscough Contemporary Art Ltd acknowledges that it is bound by the Data Protection Act 1998 and that it will not disclose your details to any third party.

You can opt out of our mailing list or update your information at anytime by the link on the the email you received or by emailing art@acag.co.uk at anytime.

With many thanks.